Albuquerque Kung Fu and Tai Chi - About Sifu David Brown
Sifu Brown became a certified personal trainer with the National Academy of Sports Medicine in 1994, which was a major contributing factor to the pragmatic biomechanics of the Si Feng Wu system.

Upcoming Events
Feb 5, 2014
Category: Upcoming Events
Posted by: mary
A new adult only class has been added to the schedule on Wednesday evenings following the intermediate class. Come and train!
About Sifu David Brown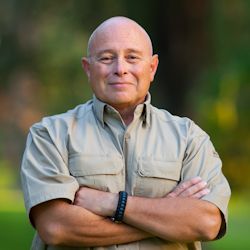 Sifu David Brown holds Master rank in the Four Winds Martial Arts Academy's primary system - Si Feng Wu (Four Winds Way). He also holds an 8th Degree Black Belt in Kenpo Karate and a 1st Dan in Tangsoodo.  He began his martial arts training as a teenager, in 1971 in Albuquerque, New Mexico, studying Tae Kwan Do and Hapkido.  In 1972 he committed himself to studying under the critical eye and iron fist of Bill Packer in a system known then as Chuan Fa Kung Sho, a style of Chinese Kenpo Karate which had been influenced by the Tracy and Traco lines of Kenpo.  The following year he also began his study of Yang style T'ai Chi Ch'uan under the tutelage of Professor Tom Buchanan and Bill Packer.
Sifu Brown earned the rank of black belt in the Bill Packer Kenpo system in 1977, and has continued to study this complex system throughout his career, earning his 8th degree black belt in December of 2006. Additionally, Sifu Brown's keen interest in martial arts has led an avid study in a diverse range of disciplines, including Hung Gar, Wing Chun, Muay Thai, Tomiki Ryu Aikido, in which he earned the rank of brown belt, and Tang Soo Do, in which he earned the rank of first Dan, and was promoted by Korean Master Wong within the Moo Duk Kwan Federation.  His varied and intensive background in a range of martial arts styles has contributed to his conception and formalization of Si Feng Wu kung fu.
Sifu Brown served in United States Air Force from 1979 to 1986, when he left active duty with an honorable discharge and a line number for technical sergeant.  He received Meritorious Service and Commendation medals for his accomplishments while on active duty. Sifu Brown continued serving as an Air Force Reservist Individual Mobilization Augmentee in the Office of Special Investigations for an additional two years.
After leaving the Air Force, Sifu Brown began a distinguished career with the Bernalillo County Sheriff's Department (BCSO). He served as a deputy sheriff from October of 1986 until his honorable retirement in April of 2007, including 14 years as a detective and 4 years as a narcotics agent. He was honored as Deputy of the Quarter in 1998 for his investigation of the Noel Mann homicide, which resulted in a 2nd degree murder conviction. He was also honored by the both the Bernalillo County Sheriff's Office and the NM State Legislature for his heroic efforts in saving the life of Pete Candelabra in 2006.  After retirement, Sifu Brown continued his law enforcement career with the New Mexico Department of Corrections Probation Parole, where he worked undercover as part of an elite team of fugitive apprehension Probation Parole Officers within the Security Threat Intelligence Unit (STIU). He later worked as a commissioned officer for the tribe of Santa Ana. Sifu Brown was also hired to write the Standard Operating Procedures manual and conduct felony investigations for the Edgewood Police Department in Edgewood NM.
Sifu Brown is the founder of Triad Defense, a company that specializes in training for Verbal Diplomacy: Critical Communication Assessments, Pragmatic Martial Arts, and Firearms Training. "Triad exists that you may survive."
Sifu Brown is a martial artist with traditional roots and values.  His teaching style and training approach has been tempered by his real-world life experiences and his ability to communicate the minutiae of his arts.  He is known for his thorough understanding of biomechanics and the use of nei gong (internal chi) for generating power without force used in the martial arts.  His deep understanding of the combative and holistic aspects of T'ai Chi Ch'uan is beyond reproach.  Sifu Brown combines Eastern and Western principles of teaching into a method that accommodates all styles of learning regardless of age and ability.